UniGuard® is a low-profile, waterless, one way drain valve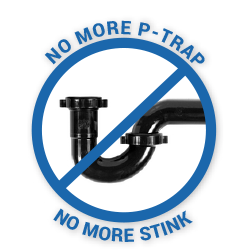 for recreational vehicles that is used instead of the standard P-trap to guard against and protect the living space from foul orders of the recreational vehicle drain system.
UniGuard utilizes a specially designed, self-sealing Silicone rubber bladder that guards against and prevents the escape of foul odors but without the risk of evaporation or cracking from freezing which is possible with standard water seal P-traps.
UniGuard opens under the water pressure of a draining fixture and the specially designed Silicone rubber bladder closes to form a tight, odor proof seal after the fixture has discharged.